Welcome
Fiscal Effects, LLC is a Daily Money Management business focused on providing assistance to clients with the handling of their day-to-day finances.
We provide practical and detailed administrative services by organizing and managing a client's household finances — such as opening & sorting mail, handling bill-paying, and monitoring & reconciling all accounts.
By shifting those responsibilities to Fiscal Effects, you ease the burden on yourself, your loved one, or your client.
Fiscal Effects serves as a complement to the professionals who provide Accounting, Legal or Investment services. We do this by organizing and providing client documentation to them, as needed. In addition to those professions, Fiscal Effects is a key member of an individual's Caregiving team. By having Fiscal Effects handle bookkeeping and financial tasks, caregivers can focus on the physical and emotional needs of their charge.
Fiscal Effects, LLC is located in Stuart, Florida and serves mostly Martin County.
For clients located outside of the Treasure Coast and out-of-state, Fiscal Effects, LLC provides Daily Money Management services electronically — via secure shared folders and email.
How Can We Help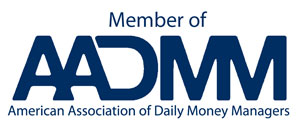 I was in my early sixties when my husband died and my life was completely turned upside down. His responsibilities are now my responsibilities and he took care of everything money wise. I thought I could do it all myself but realized I needed help. A friend recommended Leona and she has been extremely helpful and patient. She has helped me get a better grasp and understanding of paying my bills, healthcare, credit reports, documents and anything I have needed that is important to me. This has reduced my overall stress levels and a host of other things."